Let's Crack the Interviews … Technically.
Here is the list of questions, you may be asked during the technical interview of LTE RF planning and optimization job.
Can you tell us about sampling time measurements in LTE? What is the smallest time measurement unit Ts in LTE? How many Ts are there in 1 subframe?
In normal cyclic prefix, what is the length of the 0th and 1st symbol CP in Terms of Ts? How is the length of total time if all 7 CPs are added together in a time slot in terms of Ts and seconds?
What are main reasons of HO failures? how do you solve them?
What is CIO? hysteresis?Time to trigger?
What is MRO?
How does TA work in LTE?
What do you know about LTE-A?
What is carrier aggregation? Types of CA?
What CA configuration? CA bandwidth class?
What are PCC and SCC?
what is difference between CSFB and VoLTE?
Can you explain VoLTE call flow?
How do you take care of VoLTE DCR?
What QCIs are used for VoLTE?
What is IMS? IMS Signalling?
Does QCI1 and QCI5 setup simulateniously in VoLTE?
Why QCI 9 and QCI 5 are always established and deactivated together?
what is Semi-Persistent Scheduling (SPS) ?
what is TTI Bundling?
What is ROHC?
What is SRVCC?
what are the main issues you have faced in VoLTE? how do you solvethem?
Keep visiting for more updated answers 🙂
Also Please visit http://www.sharereviews.info for updated answers as well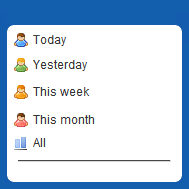 //cdn.livetrafficfeed.com/static/static-counter/live.jsPHP Obfuscator